(GCh. Ciregna Thats Amore x CH Keepsake Smooth Jazz At Foxwood)

Breeders: Debbie Royster & Daniel Hartman
Owners: Debbie Royster, Daniel Hartman & Judy Manley
Best In Veteran Sweepstakes
Judge Ms. Melody Kist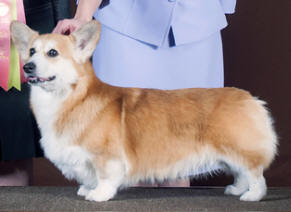 (Ch.Tallyrand No Greater Love x Ch.Tara Triad Singin In The Rain)
Breeders: Amy Caple & Sandy Butler
Owners: Amy Caple & Marjorie Wilmarth
If you had photos taken at the Specialty
by Kathy Brandt click on the link below to view and order them.
If you missed out on getting one of these cute 2013 commemorative "julep" glasses it's not too late! Order yours now. $5.00 each plus shipping.
They have the 2013 OV Jockey corgi logo
on the front with a list of all the past
OV Specialty winners on the back.
Contact Marilyn Bassinger @
(419) 231-1413 or mrb410@earthlink.net