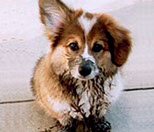 OVPWCC is involved in rescuing Pembroke Welsh Corgis, who for some reason or other, find themselves in need of a home.  Each dog is tested and evaluated before placement. Loving homes are always in demand.
For more information contact our Rescue Committee:
Neena Van Camp or Karen Strasser
Download a Word doc or a printable PDF that can be filed out on line.
RESCUE PARADE INFO
2017 Rescue Parade
September 2, 2017
Kentucky Horse Park Campground – Site #69
Lexington, KY
This site was last updated 05/19/14
This site created by Nancy Oehlhof, OV webmaster.
All photos are property of The OVPWCC unless otherwise noted.
Reproduction of these photos without express written permission is prohibited.