In the late 1980's a small group of corgi fanciers from the Ohio Valley region got together at the local shows to discuss forming a regional Corgi club. On August 26, 1990, in one future member's backyard, this group officially met to form the now Ohio Valley Pembroke Welsh Corgi Club (OVPWCC). They elected officers and the club started with 24 in attendance at that August meeting and now has a membership of 50 with several charter members remaining today.
In September of 1994 the OVPWCC hosted the Pembroke Welsh Corgi Club of America. (PWCCA) National Specialty Show in Dayton Ohio which was quite an accomplishment for a club so young. The club hosted the PWCCA National again in September of 1998, at the same location. They also officially became an affiliated club of the PWCCA that year.
Over time, following the club's formation, a constitution and bylaws were created and approved by the American Kennel Club (AKC) and various puppy matches were held including two sanctioned "A" matches that it takes for a club to qualify to hold its own Specialty. The OVPWCC held its first Specialty May 23, 1998 in Hamilton, OH, as a member of the Buckeye Associated Specialty Clubs. Now in 2005, the club is working on plans to hold its first "Independent Specialty" March 16, 2006 in Louisville, KY.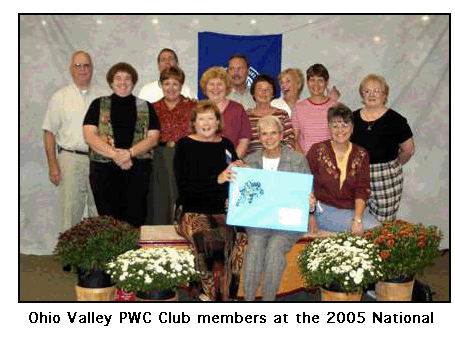 OVPWCC activities and members are primarily located within an approximate 100 mile radius of Cincinnati, Ohio, however the club does now include several active members from outside this area. The OVPWCC encourages and promotes quality in the breeding and enjoyment of the purebred Pembroke Welsh Corgi: urges members and breeders to accept the standard of the breed as approved by the AKC as the only standard of excellence by which the Pembroke Welsh Corgi shall be judged; does all in its power to protect and advance the interests of the breed by encouraging sportsmanlike competition at dog shows and performance events; conducts sanctioned and licensed specialty shows and performance events under the rules of the AKC. The OVPWCC itself subscribes to the PWCCA Code of Ethics and its members must subscribe to the OVPWCC's own Code of Ethics. Over the years, many OVPWCC members have been active members of various PWCCA committees, including being the show Chairmen for the PWCCA's National Specialty shows in 1994, 1998, 2001, 2005, 2009, 2011 & 2014. Several members have served as officers or on the board of the PWCCA.
The OVPWCC has grown in many ways from that first small group of fanciers to a vital regional club that continues to grow and provide fellowship, activities, and support of the Pembroke Welsh Corgi Breed for a large area in the Midwest.
The objectives of the Club shall be:
To encourage and promote quality in the breeding and enjoyment of the purebred Pembroke Welsh Corgi and to do all possible to bring their natural qualities to perfection;
To urge members and breeders to accept the standard of the breed as approved by The American Kennel Club as the only standard of excellence by which the Pembroke Welsh Corgi shall be judged;
To do all in its power to protect and advance the interests of the breed by encouraging sportsmanlike competition at dog shows and performance events;
To conduct sanctioned and licensed specialty shows and performance events under the rules of The American Kennel Club;
To support fully the Code of Ethics
For more information concerning the OVPWCC contact:
Adrienne K Saffell OVPWCC President